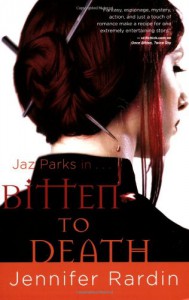 The Raptor is trying to take over Vayl's old vampire Trust, the leader has asked for Vayl's help and he and Jaz are determined to take down the enemy they have spent so long hunting. As they arrive at the Trust they realise that not everything is as it seems, the former leader is missing and the person who has taken over has her sights set firmly on Vayl. Can Jaz keep hold of her man or will he be led into temptation by an old acquaintance? And, can they finally take down The Raptor?
Bitten to Death is the fourth book in the Jaz Parks series and I'll admit it was probably my least favourite book so far, having said that I still enjoyed it enough to want to continue reading the series so I'm looking forward to picking up One More Bite. What I enjoyed most was getting to find out a bit more about Vayl's past but I still have a lot of unanswered questions about him and I hope we find out more in the next book. I also loved the addition of shape shifters in the series, I don't think we've had any up until this point but I really loved Trayton and would like to see more of him and the pack.
It seems like Jaz and Vayl might finally be ready to start moving forward in their relationship too which has been a long time coming. Jaz is so frightened of getting hurt again that she is scared to show her feelings, this is understandable but it is good to see her start to realise how much she already cares for Vayl. Vayl on the other hand is happy to admit that he wants Jaz but he tends to push her away whenever he thinks there might be a chance to find his sons which I have to admit is starting to grate on my nerves. There is definitely chemistry between them though so it will be interesting to see how things play out between them.
I've always enjoyed this series for it's action scenes and the different types of technology that they have access to via Bergman but this time I felt that the final battle was a little anti-climatic. Things tied up just a little bit too easily and I would have liked to see a more grisly battle. I missed the interaction with the other team members, this time around only Jaz, Vayl and Dave are on the assignment so we hardly see any of the others apart from through phone conversations. The banter between them all is usually one of the highlights of the books so as much as I'm enjoying seeing more of Dave I hope they're all back together in the next book. I'm also getting more than a little fed up of Cole constantly trying it on with Jaz, I like his character less and less as the series progresses and just want to see Jaz tell him to back off.
Although I don't think this is the strongest book in the series I still think fans will enjoy it and I'm looking forward to reading the next book.